Who wore the best dress at the Golden Globes?
There has been serious fashion news this week (Primark's alleged sweatshop in Manchester, for instance) but frankly, the subject on everyone's lips has been the red carpet attire at this year's Golden Globes. It was a rather understated affair, and FS wondered whether the recession had come home to roost in Hollywood. We hankered for ostentatious displays of wealth and cleavage, but the only one to deliver was Jennifer 'check out my post-baby body' Lopez. Even she seemed to have embraced credit crunch chic by re-using her Versace dress from a few years ago and spraying it gold.
There were some outfits that caught our eye, though - and not all for good reasons. Let's go with the worst first. Cameron Diaz won the designer-but-dowdy award. Her bright pink Chanel dress clung to her chest, flopped off her waist, and clashed with her tan. Renée Zellwegger's Caroline Herrera gown looked like the designer had run out of black mesh and decided to make the best of it, by missing out the shoulders and hoping no one would notice. Many people raved about Anne Hathaway's Armani dress, but we thought she looked like a goose dressed in midnight blue sequins.
On to the hits! Eva Mendes, former FS Fashionista of the Week, won our vote. This is a woman who really knows how to do simple and elegant. She didn't fail us on Sunday, wearing a white Dior number with interesting detail at the waist (a sort of bow/ruff). Then there was Drew Barrymore. The critics were divided: some loved the dress, most hated the hair, but do you know what? We liked both. Her bouffant hairdo positively reeked of old-school glamour. Next up, our very own Kate Winslet, who went all dark and interesting in a simple strapless Yves Saint Laurent gown with a thin velvet belt and bow. Shame she blew her cool with that acceptance speech.
BANG ON TREND
Big shoulders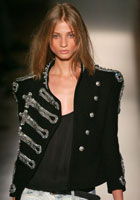 Balmain's big shoulders were a big hit at Paris fashion week last September. The military jackets were one of the most talked about items, with many fashion journos predicting the rise of eighties power dressing. Rejoice! This has proved not to be. Instead, the high street has grudgingly moved towards interesting shoulders. We're not exactly talking Hunchback of Notre Dame here, as you'll see.
The most similar look to Balmain comes from Diesel. Their white leather jacket is a costly £770 but is wonderfully 'gender misleading' (at least in the photo) and has a fab outline. Topshop has a pretty fitted floral jacket with ruched shoulders that comes in at a much more reasonable £65. Epaulettes add shape to the outline of a fitted military jacket from Urban Outfitters, which costs just £20 in their sale.
We've also found an £88 black dress by Malene Berger with seriously exaggerated shoulders and a Vivienne Westwood jacket with big lapels for £141.50, both from my-wardrobe.com.
If you fancy having a go yourself, we suggest buying the sporty version of these shoulder pads, as the others are a little too Dynasty for our taste. From £7.50 at woods-online.co.uk
FASHIONISTA OF THE WEEK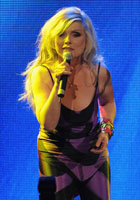 It's rare that we find ourselves agreeing with the Daily Mail but, dear readers, it does occasionally happen. This week they pointed out that Debbie Harry, the seventies punk/pop starlet, seems to have boarded a time machine and is looking utterly fantastic.
At a tribute to the late fashion designer (and her former stylist) Stephen Sprouse, she was wrinkle-free, sported luscious blonde locks and, unless our eyes are deceiving us, was bra-less. You go girl!
QUOTE OF THE WEEK
I've only done it with a couple of people. People make up stories, but mostly I just kiss. I think it's important to play hard to get. Nobody wants the fake Prada bag; they want the brand new bag that no one can get and is the most expensive. If you give it up to a guy he won't respect you; he'll want you much more if he can't have you.
Glamour interviews Paris Hilton, the only woman in the world who equates virginity to a Prada bag
FASHION GRAVEYARD
Fringing
We know we're bucking a trend here, but we can't stay silent any longer: as Sienna demonstrates so well, fringing is bloody awful. The only people who should be wearing it are Native Americans - no amount of dangly bits will ever transport the rest of us to run free with the buffalos on the plains. Sorry about that.
SHOPPING NEWS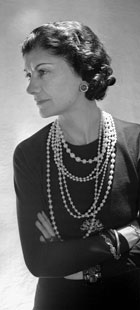 We've gone vintage crazy at Fashion Statement Towers this week. This is partly because we've heard that there are lots of vintage fashion events coming up, and partly because we're feeling a little post-Christmas poverty coming on. We'll be blitzing the last of our cash at the Affordable Vintage Fashion Fair which is coming to Leeds on 26 January and Sheffield on 31 January. If you're down south and fancy a rummage through dusty suitcases, then there's a Vintage Fashion Fair at Hammersmith Town Hall, London on 15 February, and on the same day the Frock Me Vintage Fashion Fair takes place at Chelsea Town Hall.
If you're the kind of person who prefers a more hands-on approach, we advise digging that top you haven't worn since 2001 out of the back of the wardrobe and customising it. There are some really great sites around at the moment selling gorgeous vintage buttons and trims that will tickle your fancy. Bedecked.co.uk has some fab buttons (the Delft patterned one is beautiful), and we love myvintagecharms.com for its Alice in Wonderland pendants.
OFFCUTS
Check out classic looks for spring in our 'Great British designers do florals' picture gallery.
Has the end finally come for men's ridiculous haircuts? We're praying so. Take a look at our collection of the worst offenders.
Win a designer wardrobe with our competition in conjunction with Cocosa.com
Plus all the latest news and features from the world of fashion
Any news to tell us? Email: rachel.holmes@guardian.co.uk